I would particularly like to thank those who have supplied information. Most of what I have done is collate all the information into a single place, and provide a few disparate links. It is those who have gone before who have done the lion's share of the work.
A note about places. I have tried to keep the place names correct. Australia does not exist before 1 January 1901. Also, NSW takes up half the continent before the creation of Victoria and Queensland. Hence Brisbane is first in New South Wales, then in Queensland and finally in Australia.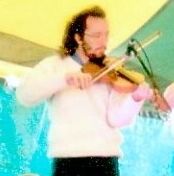 Playing the volin at the Port Fairy Folk festival.
---
Table of Contents
Pedigree Chart for Brian Voon Yee Yap
Surname List
Index of Names

---
Contact Information
Send E-mail to mail@yewenyi.net


Brian Yap (葉文意)

There are other people in this site, for various reasons, some not related at all. Some are married into my family, some I once thought were related and, turns out, they are not.
On the Aborigines: Unfortunately, I can only place global statements not he web pages. The aborigines I am aware of are in the Blackman Line and are from the children of James Blackman and Elizabeth Harley.